---
Please Visit Our New Site EmbarkToMysticism.org
&nbsp&nbsp&nbsp&nbsp&nbsp&nbsp&nbsp&nbsp&nbsp&nbsp&nbsp&nbsp
&nbsp&nbsp&nbsp&nbsp&nbsp&nbsp&nbsp&nbsp&nbsp&nbsp&nbsp&nbsp


This is a very old mystical symbol known as the Rosicrucian: Hermetic, Alchemical Cross. (Candle holders are
added to simulate the arrangement in the Sanctum.) The basic cross and rose predates Christianity.
This beautiful colored Hermetic Cross is transcribed with grateful appreciation to the Hermetic Fellowship.
To learn more about this symbol, go to our page on this symbol by clicking here.
While You are visiting this page, you will also find the link, if you care to
visit the Hermetic Fellowship.
Background Music: Pachelbel, Johann - Canon &nbsp&nbsp&nbsp&nbsp&nbsp&nbsp&nbsp&nbsp&nbsp&nbsp&nbsp&nbsp&nbspYou can turn music off/on, by using control below:


An Easy To Remember URL:


The Portal To Mysticism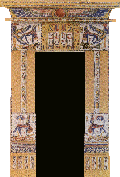 Thank you for visiting this website. If you require our contact information, click on rose below. Visit us often as we are always making changes. If you want to sign the Guestbook, click here.
Please Visit Our New Site EmbarkToMysticism.org